News From Our Classmates
---
We invite our classmates to share their life experiences on our Class web site.
It might be Anniversaries, Retirement Years, Civic Interests, Past Military or Professional Careers.
Any news of interest and Photos are welcomed.


Email HAROLD for News Input at chs1953@comcast.net

FROM A ONE ROOM COUNTRY SCHOOL
TO A BIG CITY CLASSROOM
by Harold Keller

I was born and raised on a farm near Rankin, Illinois.
I attended a one room country school with one teacher, teaching grades 1 through 8. There were maybe 12 students at best. The teacher taught combined lessons to grades 1 and 2, 3 and 4, 5 and 6, 7 and 8. This type of teaching must have worked. When I moved to Champaign and started the 6th grade, I felt I was up to par with the rest of the class.

In the country school, I remember we had recess times, going outside and playing on a merry go round, teeter totters, or playing more games. One in particular was called "Handy Andy Over". We would choose up sides and then throw a ball over the roof and the guy that caught it, would try to get around the building without getting tagged.

We had our times in class as a group. The teacher would play the piano, and we would all sing from a songbook, We also said the Allegiance to the Flag every morning. Everyday we would listen to the radio to a program called " WLS Schooltime". Each day would feature a different subject.

Halloween and Christmas were special times at our school. On Halloween night, the parents came and we would go in our costume, which was usually something found in our parent's closet. A big bonfire was lit and after the fire burned down to be a safe distance, we would roast wieners and marshmallows. On Christmas, we usually had a Christmas play, and all classmates participated. A curtain was strung up across the front of the classroom, which really seemed like a real stage. The parents would be the audience and all were proud to see the children.

I moved to Champaign in the summer of 1946. I met Louie Mays, living only less than a block from me. We became best of friends.



I started the 6th grade at Lincoln school, only a couple of blocks from where I lived. I really had an adjustment to make with about 40 students in my class. The subjects were not as hard as I anticipated. I guess the one room country school wasn't half bad.

Submitted by Harold Keller
December 13, 2018

---
CLASSMATE HAROLD KELLER RECEIVES VIETNAM WAR VETERAN PIN

Harold Keller Shown with United States Congressman Mike Coffman (CO) after receiving his Vietnam War Veteran Lapel Pin.

The phrase "Vietnam War period" is used to define the Commemoration's inclusive dates as our nation recognizes all who served on active duty in the U.S. Armed Forces at any time during the period of November 1, 1955 to May 15, 1975, regardless of duty location; and their families. No distinction is made between veterans who served in-country, in-theater, or who were stationed elsewhere during the Vietnam War period.

The 2008 National Defense Authorization Act (Public Law 110-181 § 598) empowers the Secretary of Defense to conduct a program on behalf of the nation that commemorates the 50th anniversary of the Vietnam War
By presidential proclamation on May 25, 2012, the Commemoration extends from Memorial Day 2012 through Veterans Day 2025.
(Source:VIETNAM WAR COMMEMORATION)

In May of 1957, I was faced with a 2 year draft into the Army. The Reserve Forces Act of 1955 stated that one could enlist into an Army or National Guard unit, go through 6 months of basic and MOS training. Afterwards, to be in an active reserve unit for 5 1/2 years. Needless to say, I took advantage of this program. I was assigned to a local Army reserve unit, 328th Quartermaster Company. I found that I was among Champaign High School friends, Phil Matteson, Richard Haines, Bob Apperson, Dick Stillwell, Allan Trinkle and Dick Shelby.

After 2 years in the Army Reserves, Allan Trinkle prompted me to go for a conditional release form the Army to enlist into the Air Force Reserves. It worked out for both of us and we were assigned to the 46th Aeromedical Evacuation Squadron at Chanute Air Force Base. This was much more to my liking, as we trained one weekend a month instead of one night a week.
I got my final discharge on September 20, 1963.

Since I was on active duty (even for training) from May 19,1957 to November 17, 1957, this qualified me as a Vietnam War Veteran. Today, along with 13 other Veterans, I got my Official Vietnam War Veteran- Lapel Pin at the Volunteers of America facility here in Denver. My Congressman put my pin on me and congratulated me. I really feel honored to receive this pin.

I can add this Pin to my other Military accomplishments:
Army Basic Training: Expert Medal- M1 Rifle, Member/ 2nd Regimental Bugle and Drum Corp,
Army Reserve: Quartermaster Supply Handler/ Truck Driver/ Fork Lift Operator.
Air Force Reserves: Senior Airman (E-4), Aircrew Wings Badge/ Inflight Nurse for Wounded Litter Patients.

Many of you out there may be qualified to receive such an honor.

Find out more at:
THE UNITED STATES of AMERICA
VIETNAM WAR COMMEMORATION

Submitted by Harold Keller
August 8, 2018

---
A LOUD CHEER FROM CHAMPAIGN



A loud cheer from West John Street in Champaign came from the O'Neill house. Long-time Champaign residents, CHS classmate Terry O'Neill and his wife, Julie, watched on TV their favorite baseball team, the Houston Astros, take the World Series with a 5-1 Game 7 win against the LA Dodgers Wednesday night, November 1. Their youngest son Dan, former CHS and Illinois baseball player, is the Astros' Senior Director of Business Operations. He joined the team in 2012, first working as Director of Major League Team Operations. He was in Los Angeles with the team for Game 7. Julie O'Neill said, "We actually saw him on TV in the clubhouse celebrating with the team."
(Source: The News-Gazette, Friday, November 3, 2017)

Submitted by Phil Matteson
November 6, 2017


---
A CLASSMATE WHO SERVED


Note: The News-Gazette is publishing a front-page series of articles as "A SALUTE to those who served" by printing a story about their Military service. The recent story on the front page was about classmate Robert "Babe" Alsop.

ARMY SECURITY AGENCY/'A LOT OF TENSION'

At an outpost that could have been overrun any minute by the smallest of North Korean forces, Robert Alsop was part of a unit that spied on the country that it was still technically at war with. In 1955, an armistice had only been signed two years earlier on the Korean peninsula, America's least-resolved war. A Champaign High School graduate, after working a couple of years in construction, Alsop had enlisted in the Army's security branch to avoid being drafted in the infantry. "The FBI came around asking my friends about me, because I would be getting a top-secret security clearance," he says.

One of 11 children, Alsop had lost a much older brother in the first days of the Japanese invasion of the south Pacific, a brother in the Korean War and another brother who was a Marine in World War II.

Alsop left as the equivalent of a staff sergeant. Now 81, he remembers what it was like to serve in the Cold War years. The lowlight: 14 days on a ship from Seattle to Japan before flying to Korea. "I'm glad I wasn't in the Navy," he says. "The highlight was my time in Korea. I was in the Army Security Agency, and we did some very good things, such as intercepting North Korean messages, triangulating North Korean radio centers and running spies into North Korea," he says. Alsop served in the Army from 1955-57 in Korea, just north of the decisive 38th Parallel, with 15 or 20 men, only one of them an officer, at a radio outpost near the Demilitarized Zone. "There was a lot of tension at that time. We were stationed in a small outpost in what used to be part of North Korea, and it was always a tense time, even though there was no combat at the time," he says. "We had a few carbines and pistols if they decided to attack us," he recalls. The outpost was on the east coast; the nearest friendly village was Sokcho, but the troops did not venture there. He only left the outpost for rest and recreation in Japan. Instead, supplies usually were flown in. If the plane could land, things went smoothly, but sometimes mail had to be dropped by parachute. For many things, though, Alsop says the outpost was generally self-sustaining. There was a generator for power. A pumping truck was ready to suck fresh water out of a nearby stream, he says. They could travel to an Air Force base for food. Alsop was trained in Morse code, to send and receive messages, and to intercept messages from the north. Another part of the unit used radio direction finders to look for North Korean transmitters, a job Alsop did on few occasions. And others sent spies into the north. He believes they were recruited from South Korean volunteers.

Alsop wasn't allowed to discuss any of this for several years after he was stationed on the peninsula, since the operation was top-secret. But he's quietly proud of his service. Alsop took an Honor Flight to the nation's capitol in 2015.

He married Carla; between them, they have six children. He worked for Illinois Power until retirement, but didn't use a radio on that job.
(Source: The News-Gazette, Monday, May 1, 2017)

Submitted by Phil Matteson
May 4, 2017


---
MAMIE, IKE AND EMILY





This year of the presidential elections, I want to go back in history and tell you about the 1952 presidential election.
Emily Stipes, class of 1954 is a reporter for our school newspaper, The Champaign Chronicle. She wrote the following articles:

CHS Chronicle Reporter Rides on "Ike's Special"
By Emily Stipes

Late Wednesday Night, October 1—

Hallelulia! Now it's all up to me! Before I go to bed, I must practice a few strangle holds on my pencil for the Big Day Tomorrow.

"Dwight D. Eisenhower" are magic words nowadays. When I heard that he was going to make a whistle stop speech at Champaign, my reporter nose caught the scent—a great story, How could I miss?

Having called a friend of mine who was a friend who has a friends, I learned that by somehow finagling a press pass from a local paper, I could ride from Champaign to Decatur on the Eisenhower Special. That is, if a high school student could pass for a hardened scribe.
Mr. Robert Sink, managing editor of the Courier, sister paper to the Decatur Herald-Review, procured the secret document for me and it looks as if I am all set. Officials said I must represent "a Decatur newspaper to get on at Champaign.

Little did I now that the fun had just begun! Inquiring into the problem of which car of the train I would board, I discovered from W. P. Weipert, night chief train sender-offer of the Illinois Central, that there were but a measly five press cars, one working press car, one reception car, plus dormitories, "miscellaneous travel cars." And others, besides the General's own—a total of 18.
It is the reception car I was advised by E. C. Slingman, chief day sender-offer of the same outfit as above, to invade with my special pass, plus other multiple passes I somehow acquired along the way.

Since the General's car is to be parked midway on Chester street, we had some figuring to do. —Let's see, each car is 85 feet long and the reception car is the third car back. That means that approximately 255 feet back should be the car which, if I am lucky enough to bluff the guard, will be my golden chariot for the next hour and a half. It will be 255 feet from the south side of Chester if I get on the south end of the "Calverton," less if the door is the one open to let on the Decatur and Macon county bigwigs.
Three of us dashed to the IC tracks and the tallest of us walked off the 255 feet Wednesday afternoon. We had some trouble negotiating the bank on the east side of the tracks, after first getting confused over Chester and Chestnut streets, both so close to each other.

The stage was set, the passes are in my pocket, and the questions are in my head. I'm ready to hear the clicking wheels of Ike's Special bring me music of a super-assignment given to me by my CHRONICLE editor-in-chief, Mary Ellen Cochrun.


CHS Reporter Rides Train, Talks To Mamie, Ike
By Emily Stipes

If people who heard Ike speak Thursday could only have shaken hands with him, they would realize what a deeply sincere and good man he is. His handshake can only be described as warm and strong – but there was far more to him than that.
Although shaking his hand was a wonderful experience and by far my top thrill, there were many other interesting persons on the train besides "Mamie and Ike," as all of the train staff fondly call the Eisenhowers.

How best can I tell my story? Perhaps just as it happened.
While as I was waiting for the train to come on the IC platform, whom should I spot, also waiting, but Norma Lee Browning of the Chicago Tribune. I noticed that her typewriter was bigger than her suitcase. We chatted for a few moments, and when it was time, boarded the train together. Miss Browning is an experienced reporter who knows all the ins and outs of the journalism business and had a reservation and a ticket to complete the long tour on Ike's train. The first guard we encountered didn't want to let her go on. (Miss Browning a seasoned scribe, is having trouble! How will it be for me?)
When the guard finally let her through, I—calmly. To all outward appearances, asked him where the press car was. He took only one look, and in I walked—to the RECEPTION car, the one all the VIP's were riding on. Thinking I'd have a better chance to see Ike and Mamie there than in the press car, I sat down and awaited my chance.

I saw some of the nationally known reporters sauntering back to their car and decided to follow for a look-see. The working press car was a made – over parlor car. Tables for typewriters had replaced plush easy chairs. But the rug was still there.
The reporters were all in fine spirit and busily typing their stories, hesitating only to drop the ashes off on the beautiful flowered rug. All the women reporters were complaining about how hard it was to keep their hose intact. They were planning to make a quick trip to some drug store in Springfield to replenish their supply.

While I was walking back to the reception car, the women in front of me pulled back curtains of a compartment marked "Men's Room" and peered in. I gasped and noticed that the name of some prominent political figure was posted by the door. On passing the lady's rest room, I noticed that it was being occupied by the TV men!

After inquiring around, I found that I wanted to interview Mamie. I must first see Mrs. Ann Wheaton, Mrs. Eisenhower's press secretary. After I found her and presented my problem, she went right to Mamie and secured an audience for me.
The inside of Ike's and Mamie's personal car is paneled in pine. It has a small kitchenette, two sitting spaces and a large sleeping compartment. Mamie was sitting at a table in one of these sitting spaces with Mrs. J. S. Dodd, her mother, and Mary Jane McCaffree, her personal secretary, arranging flowers.
She looked bright and not the least bit worn. She had on a navy blue dress trimmed in white and wore a bracelet made of gold four leaf clovers. With "Ike" on it.
May I make the personal observation that her pictures don't flatter her in the least? Actually, to me, she is a striking-looking woman as well as one having great charm.
Mrs., Eisenhower is an entertaining conversationalist and gesture with her hands while she talks. It is easy to observe that she loves children and young people. When we stopped in Tolono, she interrupted herself so she could wave to the people.

I didn't get to ask any questions I'd planned, but in my half-hour interview, I heard Mamie bemoan the fact that she wanted to see her own furniture and live with it for a while. She also claimed that she had made no plans for the White House, but just lived her life day by day.
The General's wife always seemed to be smiling and somehow the conversation always came back to the young people of today.

I returned to the reception room to interview some of the VIP's sitting in there. I talked to many of them. All were so cordial and nice. Among them were Mrs. Pat Loomis, official receptionist for the General, Mrs. H. M. Hollingsworth, Chairman of the Republican State Central committee, and Mrs. Alexander, vice chairman of the National Citizens for Ike.

Then as we were nearing Decatur, one of the men on the train told me that, if I wanted to see the General, I should follow some VIP's who were going back to see him, It wasn't too hard to slip in among them. The GREAT MOMENT HAD COME!
We walked into Ike's and Mamie's car and there in the same little space where I'd interviewed Mamie was the General himself.
He looked a bit worn, but his eyes were shining and full of little darts of light. When he shook my hand he exclaimed how nice it was to see some young people. I asked him if he would possibly answer one question. (You see, he has a kind of an understood agreement with the press not to answer any questions put by just ONE reporter, for he might reveal something big on which the others would be "scooped.")

But smilingly, he agreed to answer my question. Yes, he thinks that young people of today ARE more interested in politics and world affairs than they were in his day.
Why, when he was a boy in Kansas, the only things he knew much about did not extend past the borders of the state. I've always wondered what it was to be a journalist, a reporter traveling in a presidential candidate's train, or if I would like to be a reporter. I'm more certain now that I would.

After this experience, I find you get opportunities to meet the big people of our times, In this case I mean big, not only in the sense of popularity, nut big also in their hearts. I only wish that I were old enough to vote for Ike!

(Source: The Champaign Chronicle- October 3. 1952- with permission of EMILY (STIPES) WATTS )
Submitted by Harold Keller November 1, 2016


---
My Pet Project by Harold Keller


No, my Pet Project is not the Chevy. It belonged to Al Trinkle (Class of 1952). We were in the Air Force Reserves in the early 1960's. But read on.

I was born and raised on a farm near Rankin Illinois, located about 40 miles north of Champaign. My parents moved to Champaign in 1946. In September, I entered the 6th grade at Lincoln school. Following Lincoln, I then attended CJHS and CHS.

In 1996 my brother contacted me to inform me that the Village of Rankin was planning to build a Veterans Memorial. It would include names of men and women who had lived in or near Rankin and served their country in war and peace.

For several years I searched the internet to see if anyone had ever made a web site for this monument. Recently, I decided to contact the Rankin Village board to see if a web site existed and ask permission to make one.

Well, my pet project is finished. You can visit it on the world wide web at:
www.rankinveteransmemorial.com

Names of more than 700 men and women from the Rankin area who served our nation in war and peace are embedded on this monument.

The names include veterans from the following wars: Civil War, Spanish American War, WW I, WW II, Korean War, Lebanon Conflict, Vietnam War, Operation Enduring Freedom and Operation Iraqi Freedom.

I hope you will take the time to visit the site.
Harold Keller
Webmaster www.chs1953.org
Submitted October 25, 2015


---
WENDELL HULL- OLYMPIAN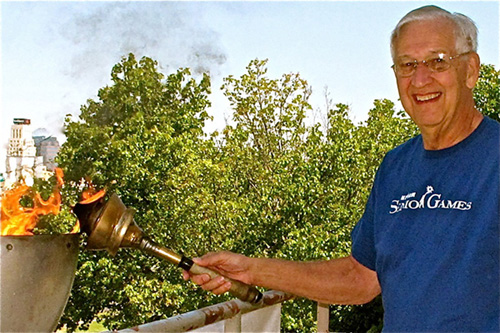 Wendell Hull was selected to carry the Olympic Style Torch to kick-off the Durham NC senior Games this year/2012. He got a gold medal in the Durham games and a silver in the NC State games in Raleigh. What a way to usher out the "old" and bring in the new-year.

Submitted by Harold Keller
12-31-2012


---

Back to Home Page
---
Email HAROLD for Updates at chs1953@comcast.net